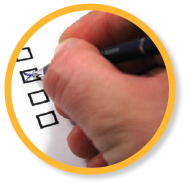 Your life, your choice
There are plenty of decisions
to make for retirement...
Fishing or golf?
Motor home or
long-awaited cruise?
A house at the beach —
or close to the grandchildren?


Long term care insurance may help you avoid a far more difficult decision: whether to exhaust your savings or liquidate your assets to pay for a period of long term care. This policy may help you be prepared for the financial realities and help you maintain control of some important decisions, such as:
Who would take care of me?
Where can I choose to receive care?
Would I be a burden on my children if my savings
couldn't cover my care?




What is long term care?
Whether it's due to a motorcycle accident or a serious illness, it is the type of care you may need if you couldn't independently perform the basic activities of daily living: bathing, dressing, using the toilet, transferring from one location to another, continence and eating, or if you suffered severe cognitive impairment from a condition such as Alzheimer's disease.


Who's at risk?
Long term care insurance is not just for the elderly.
40% of people currently receiving long term care are working-age adults 18 to 64 years old.1
About 70% of individuals over age 65 will require some type of long term care services during their lifetime.2
By 2020, 12 million people are projected to need long term care.3

How does this coverage help?
Here are some examples of how you
may use a long term care benefit of
$3,000 per month, based on the
national averages for care:4


Home health:

Home health aide:
$18.50/hr

$24,050/year*
-
$36,000 annual benefit
=
$11,950 left for out-of-pocket
medical/prescription costs



Assisted living:

Assisted living cost:
$2,825.25/month

| | |
| --- | --- |
| | $33,903/year |
| - | $36,000 annual benefit |
| = | $2,097 left for out-of-pocket |

Private nursing home:

Private nursing home cost:
$203.31/day

$74,208.15/year
-
$36,000 annual benefit
=
$38,208.15 of cost of care is
paid out of pocket



*Based on receiving care five hours a day/five days a week at $18.50/hour. For illustrative purposes only.