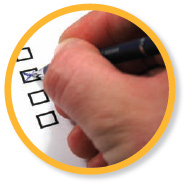 Your life, your choice
There are plenty of decisions
to make for retirement...
Fishing or golf?
Motor home or
long-awaited cruise?
A house at the beach —
or close to the grandchildren?


Long term care insurance may help you avoid a far more difficult decision: whether to exhaust your savings or liquidate your assets to pay for a period of long term care. This policy may help you be prepared for the financial realities and help you maintain control of some important decisions, such as:
Who would take care of me?
Where can I choose to receive care?
Would I be a burden on my children if my savings
couldn't cover my care?


What is long term care?
Whether it's due to a motorcycle accident or a serious illness, it is the type of care you may need if you couldn't independently perform the basic activities of daily living: bathing, dressing, using the toilet, transferring from one location to another, continence and eating, or if you suffered severe cognitive impairment from a condition such as Alzheimer's disease.


Who's at risk?
Long term care insurance is not just for the elderly.
Only 16% of American workers say they are very confident they would have enough money to pay for long term care expenses in retirement.1
70% of people turning age 65 can expect to use some form of long term care during their lives2
Annually, about 9 million people use long term care services.3

How does this coverage help?
Here are some examples of how you
may use a long term care benefit of
$3,000 per month, based on the
national averages for care:4


Home health:

• Long term care annual benefit
• Home health aide ($22/hour)
• Left over for out-of-pocket expenses

| | |
| --- | --- |
| | $36,000 |
| - | $28,600/year* |
| = | $7,400 |

Assisted living:

• Long term care annual benefit
• Assisted living ($4,380/month)
• The cost of care that you will pay out of pocket

| | |
| --- | --- |
| | $36,000 |
| - | $52,560/year** |
| = | -$16,560 |

Private nursing home:

• Long term care annual benefit
• Private nursing home ($273/day)
• The cost of care that you will pay out of pocket

| | |
| --- | --- |
| | $36,000 |
| - | $99,645/year |
| = | -$63,645 |

*Based on receiving care five hours a day/five days a week at $22/hour. For illustrative purposes only.
**For illustrative purposes only. Based on 100% home case and 100% assisted living facility. Other options may be available